July 2022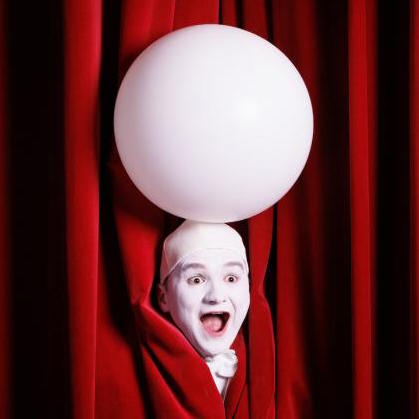 Globule
It's finally (almost) time! More than 4 years ago, I, together with librettist and director Alma Terrasse, came up with an idea for a children's opera (ages 6+) that takes place in the human body and explores the body as a source of sound and life: Het Lijflied (The Body Song). The story centers around a girl named Ina who enters her own body and encounters her comrade and guide Globule - the white blood cell. She goes in search of a miraculous sound and starts conversation with her own Stomach, Brain, Heart, Intestine, and even Poo.
The premiere will take place at Opera Zuid in Maastricht on September 23rd, followed by a tour through the country from November to January. Het Lijflied is a co-production of Opera Zuid, Dutch National Opera & Ballet, and November Music.
March 2022
The Goddess of Peace pulls her hair out: why can't people manage to live in peace?! Five centuries ago, the Netherlands' most important humanist Desiderius Erasmus penned a plea against war and violence in his prophetic essay The Complaint of Peace. The plaintive words of his Goddess of Peace echo just as loudly today.
For Capella Brabant, I set parts of this strong Latin text to music. Pieter van Loenen plays the violin, Arno van Wijk plays the organ, and Marc Versteeg conducts. Jibbe Willems wrote a new play that runs parallel to the music, performed by actress Anna Schoen with direction by Saskia Bonarius.
May 2021
I am currently working on the music for the children's show King Bowi by Theater Sonnevanck. Bowi goes to school for the first time and finds the experience utterly disappointing. At home he always got what he wanted but now he has to share everything, play together, and listen to the teacher. He even has to sit at the table with the bossy Ruby and Zip. Everything has to be their way. Bowi doesn't want that at all. If only he were the king of the class! And then something miraculous happens. The classroom vibrates, lights flash in all colors of the rainbow... and Bowi's wish comes true.
King Bowi will be a comical, musical and visual family performance about the passionate desire to be the boss. The show will play in many theaters in October and November.
August 2020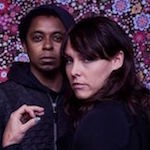 A fun and special musical outing for me: for Wende Snijders, Typhoon, the Dutch Chamber Choir and ZO! Gospel Choir. I wrote an arrangement of Don't leave me (Ne me quitte pas) by Jacques Brel.
The arrangement was part of Wende's Kaleidoscope 2020. A selection of fantastic artists kicked off the cultural season on 25 August from Royal Theatre Carré. The evening was broadcast by NPO2 and can still be seen on npostart.nl.
December 2019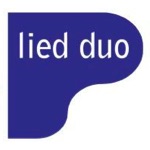 LiedDuo Concours 2020
Good news! I will be writing a piece for all participating voice-piano duos at the International Student LiedDuo Competition 2020. This means that all participants will be studying this piece, and the 12 semi-finalists will perform it during the semi-finals in Groningen in March 2020. I have opted for a Latin text from In Praise of Folly by Desiderius Erasmus written in 1511.
I've chosen a passage from chapter XIII: Childhood and old age according to the Folly. In this chapter, Folly describes that children and elderly people do not differ much; both are 'unwise'. It will be a special experience to hear 12 different versions of my piece!
July 2019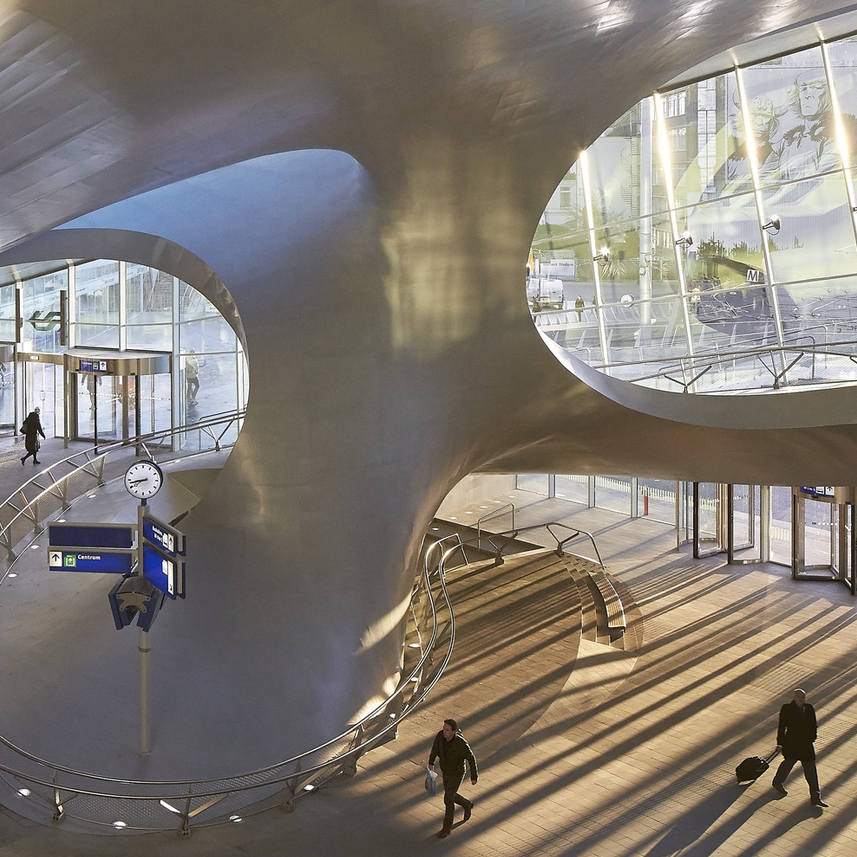 In October and November 2019 the performance Flatline by Musical Theatre De Plaats will be playing for eight evenings on a very special location: Arnhem Central Station. I am currently composing the music for this performance, a tale about the difference between artificial time and natural time. Artificial time is the objective, measurable time as we know it from our watch. Natural time is time in harmony with nature/the universe, in which we have moments to unwind, to reflect and to gain new insights. The performance will be a choral work on poems by Rutger Kopland. It will be performed by Musical Theatre Choir De Plaats and actress and singer Jorien Zeevaart. Spoken texts are written by Annet Bremen.
June 2019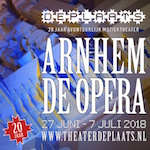 During the last week of June and the first week of July, I will conduct eight performances of The Night, part of Arnhem, the Opera. The Night features 90 singers from Toonkunstkoor Arnhem, the Velper Bach Ensemble, and my own De Plaats Music-Theatre Choir as well as 16 dancers from Fast Track.
It is very special to be able to work on such a large production with so many talented collaborators. Andries Van Rossem has written beautifully layered and spherical music that perfectly highlights the text of Albert Hoex about the hopeful expectation and at times bitter reality of the way life passes by.
October 2017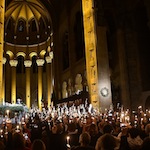 Exciting: my piece See the Wretched Strangers will be performed at the New Year's Eve Concert for Peace on December 31, 2017 in New York City. This annual event, founded by Leonard Bernstein in 1984, takes place in the Cathedral of Saint John the Divine, one of the largest cathedrals in the world.
See the Wretched Strangers is a piece for mixed choir, vocal quartet, cello and piano. The text, by Shakespeare, is a written plea for the humane treatment of refugees. His words are still just as strong and relevant as they were four centuries ago.
The concert also features the iconic pop star Judy Collins, while the NBC News anchor man Harry Smith will present it. At the end of the concert, the thousands of visitors will all light candles.
November 2016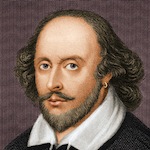 As soon as the Centraal Chamber Choir asked me to compose a new piece for them, I began to look for texts about refugees. This is a subject that moves me, and I had wanted to do something with it for some time. After some research, I found a beautiful and timeless text from William Shakespeare, from his play Sir Thomas More. The fragment I have chosen is from a monologue by the humanist Thomas More, during the May Day protests in London in 1517. Angry Londoners were protesting against the arrival of refugees from Lombardy in Northern Italy. More manages to calm the masses, and makes a plea for humane treatment of the refugees. The premiere of the resulting See the Wretched Strangers took place on 9 October, and the next performance in Amsterdam will be on 14 May 2017. Here below is a fragment from the text:

Imagine that you see the wretched strangers,
Their babies at their backs and their poor luggage,
Plodding to the ports and coasts for transportation,
And that you sit as kings in your desires,
March 2016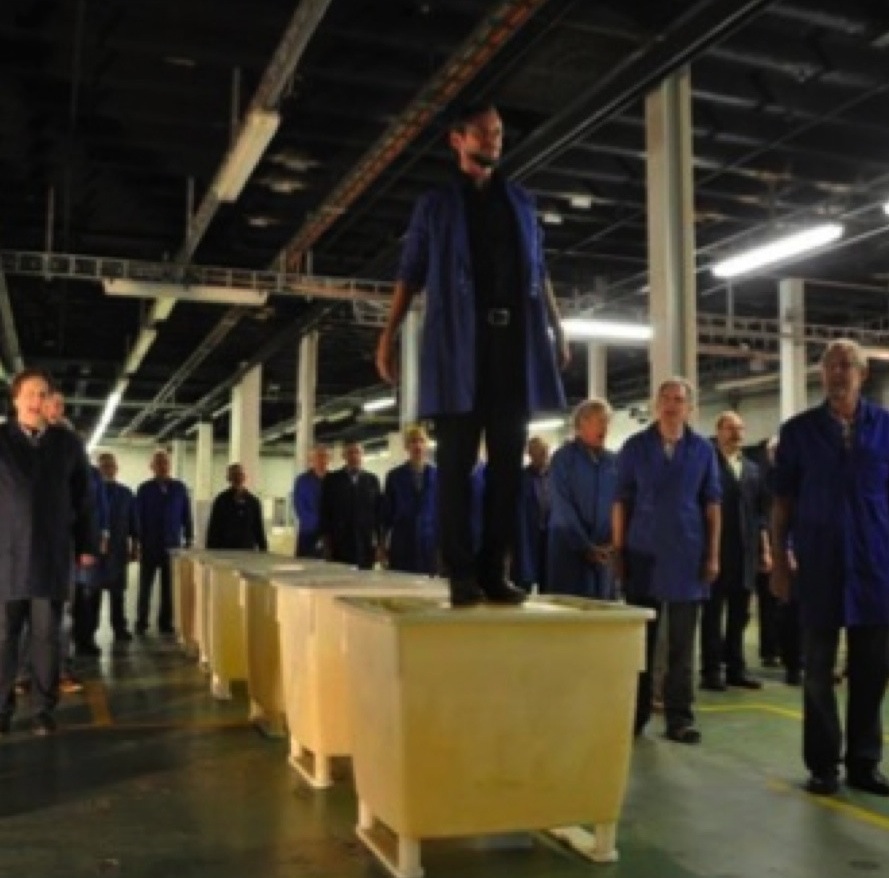 For a while I had been considering the idea, and as of 1 March 2016 it has come into being: De Plaats Music-Theatre Choir has formed, with myself 'at the helm'! The choir will sing and perform in the music-theatre productions of De Plaats, a company that makes original shows in surprising locations in Arnhem and further afield in the east of the Netherlands. We will mainly concentrate on a capella choir repertoire across a range of classical music genres, and on vocal improvisation. Our first project will be The forbidden flower, a production framed with superb choral music by composers such as Tchaikovsky and Shostakovich.
August 2015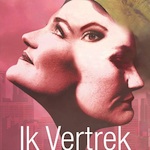 In the past months I have been occupied with writing music for Ik Vertrek (I'm leaving), a chamber opera in three acts which will be performed in September by Kameroperahuis in collaboration with the Dutch Touring Opera at the City Festival of Zwolle.
In the opera a couple has decided to leave everything behind and to move to an uninhabited area. The husband is hoping to get closer to his wife, but she hardly pays any attention to him. As soon as they set foot on this desolate piece of land, she is overwhelmed by her inner thoughts. These thoughts appear to her in the form of the four musicians and a singer. They test her, taunt her, and eventually seduce her into the ultimate consequence of her desires: raising oneself above the world.
February 2015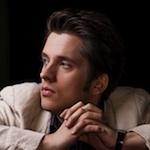 Severin von Eckardstein
As Young Composer in the Spotlights at the Musis Sacrum Concert Hall in Arnhem, I had the pleasure of writing a new work for four great musicians: clarinetist Lars Wouters van den Oudenweijer, violinist Franziska Hölscher, cellist Danjulo Ishizaka and pianist Severin von Eckardstein. The piece, The occult beauty of the finite, is about the finite, exploring the realization that what we hold dear is impermanent and finding the beauty that lies therein. Hereby I want to thank Musis Sacrum and producer Benno Brugmans for giving a young composer a wonderful opportunity like this. On February 19, 20, and 21 the piece will be performed consecutively in Düsseldorf, Amsterdam and Arnhem.
September 2014

On August 14 my Sonata for 10 pedals for harp, Disklavier and live electronics was premiered during the 47th International Summer Course for New Music in Darmstadt. In the piece, the seven pedals of the harp and the three pedals of the Disklavier are central. It was a special honor to be invited to this famous and well-known festival where so many great composers have worked, taught, and debated since 1946. On September 13, the sonata was also performed during the Gaudeamus Music Week. It was a wonderful project, not in the least due to the excellent cooperation with Robert van Heumen, who created the sound design of the live electronics.
February 2014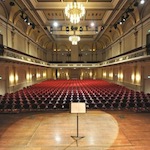 Musis Sacrum
For the 2014-2015 season, I will be 'young composer in the spotlights' at Musis Sacrum in Arnhem. A wide range of different ensembles and musicians will perform several pieces of mine: Orchestra De Ereprijs will play a new work, Ensemble Lunapark will perform Nineteen for string quartet and two percussionists, clarinettist Lars Wouters van den Oudenweijer and master pianist Severin von Eckardstein will premiere a new composition, and the Nederlands Kamerkoor will sing Eros. I consider it a great honour to be chosen, and I cannot wait for the season to begin!
January 2014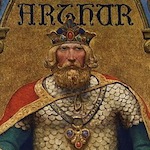 King Arthur
I am currently working on a tragicomic music-theatre work about King Arthur for the Kameroperahuis and the Nederlandse Reisopera. In our contemporary world, Arthur would be shocked to see that the heroism and brotherhood of his day are becoming relics of a bygone time. With one foot in the past, Arthur will set our society under the microscope. Only by doing so, can he succeed on his quest for modern day honour, and discover what it really means to be a hero today. The libretto is by Anna Maria Versloot, and the stage direction is in the hands of Karin Netten. The work will be performed at the Operadagen in Rotterdam, the Oerol Festival on the island of Terschelling, and the City Festival of Zwolle.
December 2013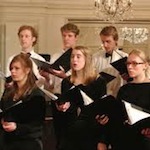 Nederlands Studenten Kamerkoor
As a commission for an upcoming tour of the Dutch Student Chamber Choir, I have composed Eros: a new work for mixed choir and harmonium. I chose a text from Plato's Symposium, a great ode to the god of love Eros, standing here as a symbol for love itself. In the piece I interwove fragments of ancient Greek music from between the 5th century AD and the 2nd century BC, providing it with a new text. For me, the piece is about a gathering of singers, a ritual in which love is serenaded and praised.
October 2013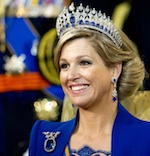 On October 17, the new Isala Klinieken in Zwolle will be opened by Queen Máxima. To welcome her, the Kameroperahuis has been commissioned to create an opening act. I have composed a song for more than 200 employees who will sing to her, and I will conduct the piece too. In addition to this impressive choir, there is a large role for the soprano Bauwien van der Meer, as well as piano, cello and percussion. The lyrics are by Anna Maria Versloot and the direction is in the hands of Sjoeke-Marije Wallendal, as the singers will have to do much more than just singing!
March 2013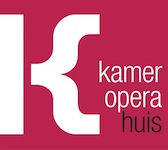 Good news! Effective immediately, I am working as a composer for the Collective of the Chamberoperahouse. The Collective consists of two composers, two librettists, two directors, a dramaturge, a designer, singers, musicians and actors. With this group, I will work to plan various performances for the next two years. The projects will be very diverse, ranging from small-scale musical theatre to large-scale opera productions. Each project will be use different combinations of members from the Collective, occasionally collaborating with other institutions such as the National Reisopera. As a member of the Collective, I anticipate that we all will have built up a large network of lifelong colleagues by the end of our two-year tenure.
August 2012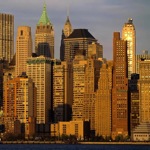 New York
From August 22 till the middle of December 2012 I will be an exchange student at the Manhattan School of Music in New York: a wonderful school in a great city. I will start working on a large choral work for the school chorus of the Conservatory of Amsterdam, which will be performed in May 2013. In New York I also want to develop myself further in the field of music theatre and therefore MSM in New York is the right place. Furthermore, I will be following many courses, attending concerts and getting to know the city.
August 2011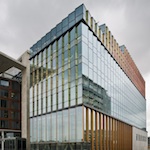 Conservatorium of Amsterdam
Totally forgot to mention: I got accepted to the master composition in Amsterdam! Over the next two years I will study composition with Willem Jeths and Richard Ayres, and electronic music with Jorrit Tamminga. My research will focus on music theatre and the collaboration between different disciplines - music, dance, theater and film.
I will also get piano lessons again and I will follow lessons at the University of Amsterdam. On Tuesdays I will conduct the Choir of the Barlaeus Gymnasium. Thus, it should be two great years!
May 2011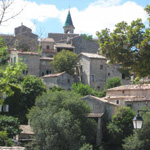 Tharaux
From July 24 until July 29 2011 the 8th festival Tharaux Arts&Musique will take place. Pianist and initiator Marja Bon asked me as composer in residence to write three new compositions: one work for piano solo, one work for two clarinets and a sound sculpture made by Ernest Laeven and one work for musicians and villagers.
The concerts will include pieces from Claude Debussy, Francis Poulenc, Erik Satie, Ron Ford and Wolfgang Rihm. During Debussy's La Boîte a Joujoux artist Saskia Masselink will make live-illustrations.
Besides the concerts, ten artists will exhibit their work. See 'upcoming concerts' and www.tharauxartsetmusique.fr
March 2011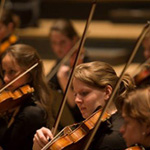 Nederlands Studenten Kamerorkest
In April, the Dutch Students' Chamber Orchestra conducted by Harmen Cnossen will perform my new work Blazing a Trail. The harp is the instrument that is blazing the trail for the orchestra: she introduces notes and rhythms, supported by the percussion, that are then taken over by the orchestra.
Apart from my piece, Bruckner's Drei Stücke für Kammerorchester will be performed, as well as the Beethoven's 6th Symphony and Mahler songs with Rosanne van Sandwijk as the soloist. The performances will take place in Groningen, Leiden, Maastricht, Nijmegen, Utrecht and Amsterdam. Blazing a Trail was created with financial support from the Fonds Podiumkunsten.
November 2010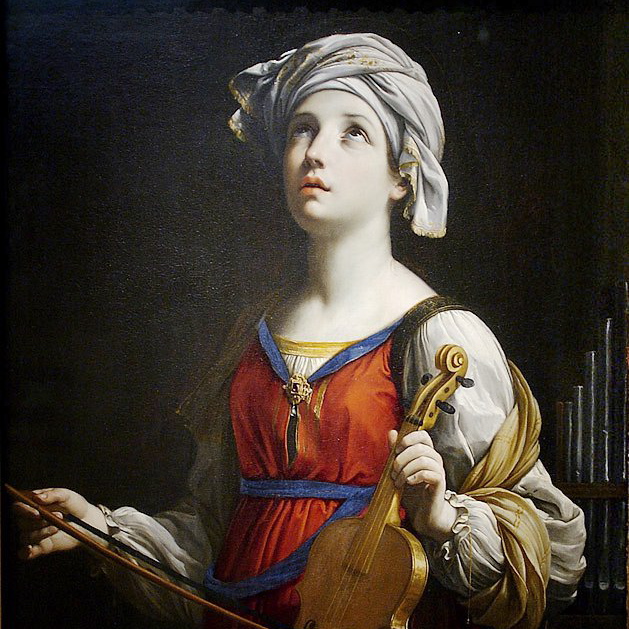 St. Cecilia
Foundation Le Pavillon asked writer Marije Korthof and me to create a work based on Cecilia, the patroness of music. It didn't end up becoming a simple piece. Each choir member has a great responsibility, not least because the chords are often 8, 10 and in the final chord even 16-voiced. The harmonies usually start simple and then evolve into clusters.
Over the centuries, there are hundreds if not thousands of texts and compositions dedicated to Cecilia, so in advance I was curious about what Marije would do with this theme. Marije's text has become more than a tribute to Cecilia. It celebrates not only her story but is also a plea for life itself.
The Lelikoor led by JanJoost van Elburg will perform the work on the 20th and 21nd of November in Amsterdam and Utrecht (see agenda).
August 2010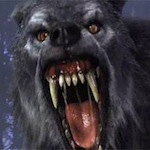 De Weerwolf van Millingen
For the past few weeks I have been occupied with a special project: writing music to De Weerwolf van Millingen. This saga from the past of Gelderland (a Dutch province) relates the story of Dorus van de Dries, who turns into a werewolf each time the moon is full. One day, the villagers decide that enough is enough and they gather at Dorus' house to cure him of his 'werewolving'.
The work will be performed by the HGO Rebels (musicians from the Gelders Orkest) conducted by Alexander de Blaeij, together with actor Nard Verdonschot. Performances on 16th and 23rd October (see the Agenda). The programme also features works by Barnacle and Debussy.
March 2010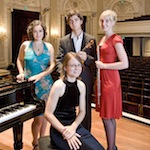 Princess Ensemble
From 4-16 March, four musicians who had won prizes in the Princess Christina Concours toured India. This ensemble - the Princess Ensemble - consisted of Nora Fischer (soprano), Rianne Jongsma (flute), Bas Treub (violin) and Andrea Vasi (piano). I was asked to write a piece for this occasion. The text I used was a poem by Robert Anker, Valentijn - een week te laat. The quartet played the work twice: on March 11th in Mumbai during a private concert at the residence of ambassador Marijke van Drunen Littel, and on March 16th at an open air concert in David Hall, Kochi.
October 2009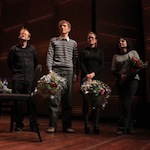 During the final concert of the Dutch Music days, all five nominees' works for the Henriëtte Bosmansprize 2009 were performed. After a very good performance by the New Ensemble conducted by Hans Leenders, the evening was already a success for me.
After the break the prizes were awarded. The chairman of the Association of Dutch Composers, Jeff Hamburg, addressed the audience. and told them about the record number of almost 50 entries this year. Afterwards he presented the results: the Henriëtte Bosmansprize (juryprize) was awarded to the British Hilary Jeffery (Vishnu Stokkings), the Tera de Marez Oyensprize was awarded to the Colombian Natalia Dominguez Rangel (Speech Perceptions), and the audience prize was awarded for my piece Broken Lines.
September 2009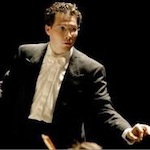 Hans Leenders
11 October is the date! During the final concert my composition Broken Lines will be performed by the Nieuw Ensemble conducted by Hans Leenders. This piece has been nominated for the Henriëtte Bosmanspize, a prize for young emerging composers living in the Netherlands. Other nominees are Silvia Borzelli (sur-itinéraire), Hilary Jeffery (Vishnu Stokkings), Ezequiel Menalled (Brùjula) and Natalia Dominguez Rangel (Speech Perceptions).
Apart from a performance of all these pieces, the programme will also include works bij Micha Hamel, Wim Laman and Rodney Sharman.
Following this concert the jury as well as the audience will make their decision.
April 2009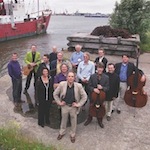 Nieuw Ensemble
24 April finally came: my piece Broken Lines for Nieuw Ensemble was premiered in het Muziekgebouw aan 't IJ.
All pieces played formed the culmination of a wonderful project where young composers had several sessions in which fragments of their work were played by the Nieuw Ensemble. We received excellent advice from the musicians of the Nieuw Ensemble, conductor Lucas Vis, artistic leader Joël Bons and various guest teachers. For me personally, the high point was the final session with the ensemble when guest composer Brian Ferneyhough not only gave great advice but also spoke animatedly about our work.
February 2009
On 6 February my piece Te Deum for organ and cello performed by DuoVanCampvanDelft was premiered in de Oranjekerk, Amsterdam. This concert formed a platform for poets and composers to work together and I found my inspiration for Te Deum in a poem, specially written for this occasion by Anneke Brassinga. I interpreted this poem as being about sounds, sounds which were together as well as independent from each other and finally melting into the ether: to the immensity, the far away sigh of yesteryear.
The organ and cello begin playing in different tempos, independently from each other but at certain moments come together and gradually blend into each other.
November 2008
Nineteen was premiered in the Rabobankzaal of Music center Frits Philips in Eindhoven on 19 November. This is a piece for string quartet and tubular bells and formed part of the Tromp Festival (held especially for string quartet and percussion every two years) in Eindhoven. The piece is based on the number nineteen, as the title suggests. Two instrumental groups (violin 1, cello and tubular bells set 1 against violin 2, viola and tubular bells set 2) weave rhythmic patterns through each other allowing the note values of 'nineteen sixteenth' to keep appearing. I strayed from the concept when I thought it necessary.
September 2008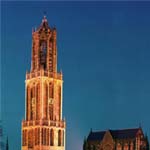 Domtoren Utrecht
Contra turrim Trajectensem, my composition for two voices and orchestra, had its premiere in the Muziekgebouw aan 't IJ (Amsterdam) on Monday 29 September. Lucas Vis conducted the Geert Groote Orchestra, soprano Annet Lans and alto Ananda Goud. I wrote this piece for the 75th anniversary of the Geert Groote School in Amsterdam and used a text from a tract by Groote: Opus contra magna edifica superflua principaliter contra turrim Trjectensem, published in 1376. Geert Groote felt strongly against the building of the Dom tower of Utrecht. He believed this would only lead to vanity and pride and above all would be built at the expense of the poor.
December 2007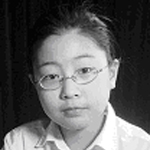 Ghil Bae
The piano recital of the Royal Conservatory's Young Talents Programme took place on 7 December 2007. It was a varied programme but all pianists were obliged to play Troubled Thoughts, which I had written especially for this examination. Everyone interpreted this piece in their own way, one in extremely fast tempo, another in a slow and expressive way. Many of the pianists evidently enjoyed playing this piece, since it was later played at the Christina Concours, the Steinway Concours and by Ghil Bae at the international piano concours in Maria Campini (Portugal) where it was awarded the 2nd prize.
March 2007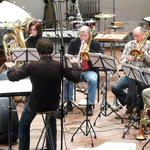 de ereprijs
The Young Composers' Meeting took place from 4 up to and including 9 March 2007 in Apeldoorn. I was one of the 16 composers selected to compose a three-minute piece for orchestra 'de ereprijs' and five singers studying at the Conservatory in The Hague, conducted by Rob Vermeulen. We received lessons and workshops from composers Louis Andriessen, Richard Ayres, Joe Cutler, Mary Finsterer, Martijn Padding and voice coach Gerda van Zelm. This was followed by several rehearsals where we could work on our compositions as preparation for the final concert held later that week. It was a wonderful week, especially thanks to the excellent lessons we received and the great atmosphere within our group of composers!
January 2006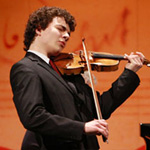 Gerard Spronk
On 14, 21 and 28 January the qualifying rounds were held for the Iordens Violin competition in the Schönberghall, The Hague. The closing concert was Saturday February 4. All participants were between 12 and 14 years old and were obliged to play Overdrive, a piece I had specially written for this occasion. I heard my piece at least 35 times!This was an extremely special and valuable experience for me.
The piece was also performed on 15 April during a lunch-time concert in the Dr. Anton Philipszaal by Gabriele Kuchenbecker (and aired on Radio West) and was also recorded for an information film Where is the door? This film about dementia was directed by Najib Taoujni. In this recording, Jan-Erik van Regteren Altena was the violinist and Kimball Huigens was the pianist.
November 2006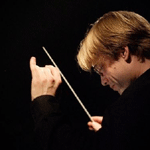 Bas Wiegers
As part of the 'Virtuoso! Unheard-of-Rembrandt' project, held on Saturday 18 and Sunday 19 November 2006, the newest compositions by the Royal Conservatory students of composition were played alongside works by 17th century composers. My piece named after Portret van een vrouw op 83 jarige leeftijd (Portrait of an 83 year old woman) was also played. It proved an exciting challenge to transform such an expressive painting into music. Rembrandt evokes an illusion of clarity while his technique suggests intimation and detachment. It is a jumble of fine and rough strokes criss-crossing each other. The complicated details were painted with unbelievable precision. With this in mind I set to work . This composition was performed by the Rembrandt Ensemble conducted by Bas Wiegers in the Scheltema Complex in Leiden.